7 Tips For Manageable, Affordable Back To School Shopping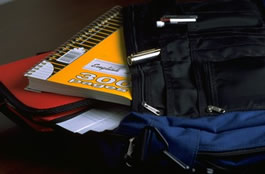 As the summer winds down, students and parents take to the streets to stock up on everything from pirate lunch boxes to stacks of grid paper. If you're getting ready to send your child back to school here are some tips to help make this year's preparations as affordable and manageable as possible.

1. Get your child involved and have them help make a detailed list before you go shopping. If you have a recommended list of supplies provided by your child's school, use this to get started. Take the time to sit down with them. The older your child is, the more you can allow them to take initiative in planning. This in turn will help them learn valuable organizational skills.

2. Separate the "wants" from the "needs". TV commercials and other forms of marketing are working overtime to convince your child that they absolutely must have the latest [insert popular character here] pen set, backpack, or notebook. If your child is old enough to understand basic mathematics, try providing them with a budget while giving them some freedom of choice in supply selection. This help them appreciate the cost of materials while balancing the usage of "trendy" school gear. Basic school supplies get the job done, don't distract from learning, and are more affordable.

3. Get organized and search through last year's school supplies to see what can be used again. Unless your child used up the last piece of paper and the last inch of pencil on their last day of school, you should have at least something left over that can still be used.

4. Beat the crowds and start shopping for school supplies earlier in the summer. Not only will there be less aisle-crowding to contend with, this will help you keep an eye out for sales to get supplies at the best possible price. Perhaps keep the shopping list in your purse, or if you're a techie, on your cell phone, so that you can pick up on-sale items when running other errands if you happen to come across a good deal.

5. Buy the right amount! Purchase large quantities of the items that your child will need most frequently. Storing paper, pens, pencils, and anything else that will be used year-round will help cut costs and avoid extra trips to the store throughout the year. If your child is getting older or not taking any art classes, you may not even want to spend money on glue or crayons until the time actually comes (if it comes) that they are needed. Visit local dollar stores and compare prices online if you're really looking to make every last penny count.

6. Determine when to spend the money on name brands. Two poorly made, ripped backpacks cost more than one quality backpack, and a leaky pen plus a ruined pair of shorts costs more than one quality pen. This one may not always be easy to judge, but as time passes you will get used to the ritual of back-to-school shopping and know where quality counts.

7. Keep your eyes open for promotions and sales when reading the newspapers or sifting through mail flyers. Keep any advertisements with good prices, as your local store of choice may match competition pricing. Online stores may offer free shipping for orders that reach a certain amount.